10 day Costa Rica Horseback Riding Vacation
explore your Costa Rica vacation in the traditional way of travel.
This horseback riding vacation tour brings you in the world of tropical rainforest,
farmland of Costa Rica as well as beautiful beaches in
different climate zones as there is 5 of them in Costa Rica.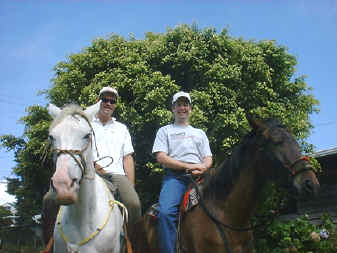 Mountain and beach ride
day 1: Arrival in Monteverde Costa Rica
day 2: 1st day of riding around Monteverde
day 3: 2nd day of riding to the Hot Springs
day 4: 3rd day riding around Monteverde
day 5: transfer to the beach
day 6: 1st beach ride
day 7: 2nd beach ride
day 8: 3rd beach ride
day 9: 4th beach ride
day 10: Departure to San Josť Costa Rica
WHEN: This vacation horseback riding tour can be set up any time you want. Recommended travel time for Costa Rica is December to August, very best January to April. We will need at least 4 people that fit in the same time as you which should not be a problem. The group will not be larger than 6 riders.
MEETING POINT: We will fetch you at the international airport in San Josť and drop you of there as well.
RIDING CONCERNS: This vacation riding tour enquires horseback riding experience, since there is 7 days riding about 4 - 5 hours a day. Since most of the horseback riding will be in the mountains, the riding will necessarily be at a slow pace with some moderate trotting and galloping in valleys. Riders who cannot control their horse at the canter and do 10 to 20 minutes trots will not enjoy this ride. Dismounting and walking with horse will be required in very few locations. Weight limit 90 kg.
HORSES: Costa Rica horses are Criollos and we ride Costa Rica saddles. Our horses are extremely well trained, have very good condition and get all health and nutrition care you can think off.
PRICES: For this 10 day vacation tour on horseback in Costa Rica, including all meals and accommodation cost $2350 US p. P.
LOCATION: San Jose - Monteverde - Guanacaste beaches - San Jose
info@horseback-riding-tour.com
Cell/WhatsApp: +506-83852424 contact us
Web design by Smiling Horses © 2019