Tabacon Hot Springs at Arenal Volcano Costa Rica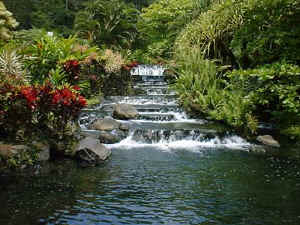 Combine the visit of the Arenal Volcano with a nice relaxing time in many different pools of the hot springs of the Arenal Volcano in Tabacon. One of the best treats you can give yourself after a horseback riding day.
The Arenal Volcano in the Northern Zone's most impressive landmark is the classically conical Arenal Volcano, which towers over the eastern shore of Lake Arenal. Costa Rica's most active volcano, Arenal rumbles regularly and bursts into occasional explosions that send molten lava and incandescent boulders flying in all directions. It's an impressive enough sight by day since 32 years, but the best time to watch the volcano's performance is on a clear night, when the eruptions light up the sky with full Fourth-of-July splendor. Unfortunately, the volcano is often obscured by cloud cover. It's the luck of the draw, but if you're lucky enough to experience a major eruption, it is guaranteed to be unforgettable.
get the nicest treat after your horseback ride from Monteverde to Volcano Arenal
while you enjoy one of thehot pools in Tabacon see the lava flow of Arenal Volcano at night
- an unforgettable world unique impression -
Tabacon Hot Springs at Arenal Volcano Costa Rica is part of our horseback riding vacation from Arenal Volcano to Monteverde and the beach in Guanacaste.
all photos and web content copyright Sabine Hein, email me, if you want make use.